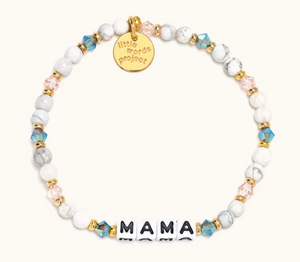 Little Words Project Mama Bracelet in Dearest
Take it from us, mama…the people you love don't need perfect. They just need you! A beaded bracelet to help you cherish every minute of your wacky, wonderful mama life.
A little reminder to register your bracelet! When you've passed it on, you can track its journey to see who else it's inspired.
• Hand-crafted, crystal beaded bracelet
• Plated brass hardware
• Elastic stretch bracelet
• Handle with care - do not wet
S/M Fits up to a 6.25" wrist comfortably
M/L Fits up to a 7" wrist comfortably