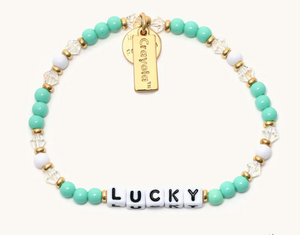 Little Words Project Lucky Shamrock Bracelet!
Size: S/M
Get lucky with Crayola® x LWP- Lucky, a beaded bracelet made from Crayola's iconic colors. Show off your playful side by wearing a unique crayon-inspired accessory that's sure to turn heads. Put your fate in your own hands and get that lucky charm you need!
A little reminder to register your bracelet! When you've passed it on, you can track its journey to see who else it's inspired.
• Hand-crafted, crystal beaded bracelet
• Plated brass hardware
• Elastic stretch bracelet
• Handle with care - do not wet